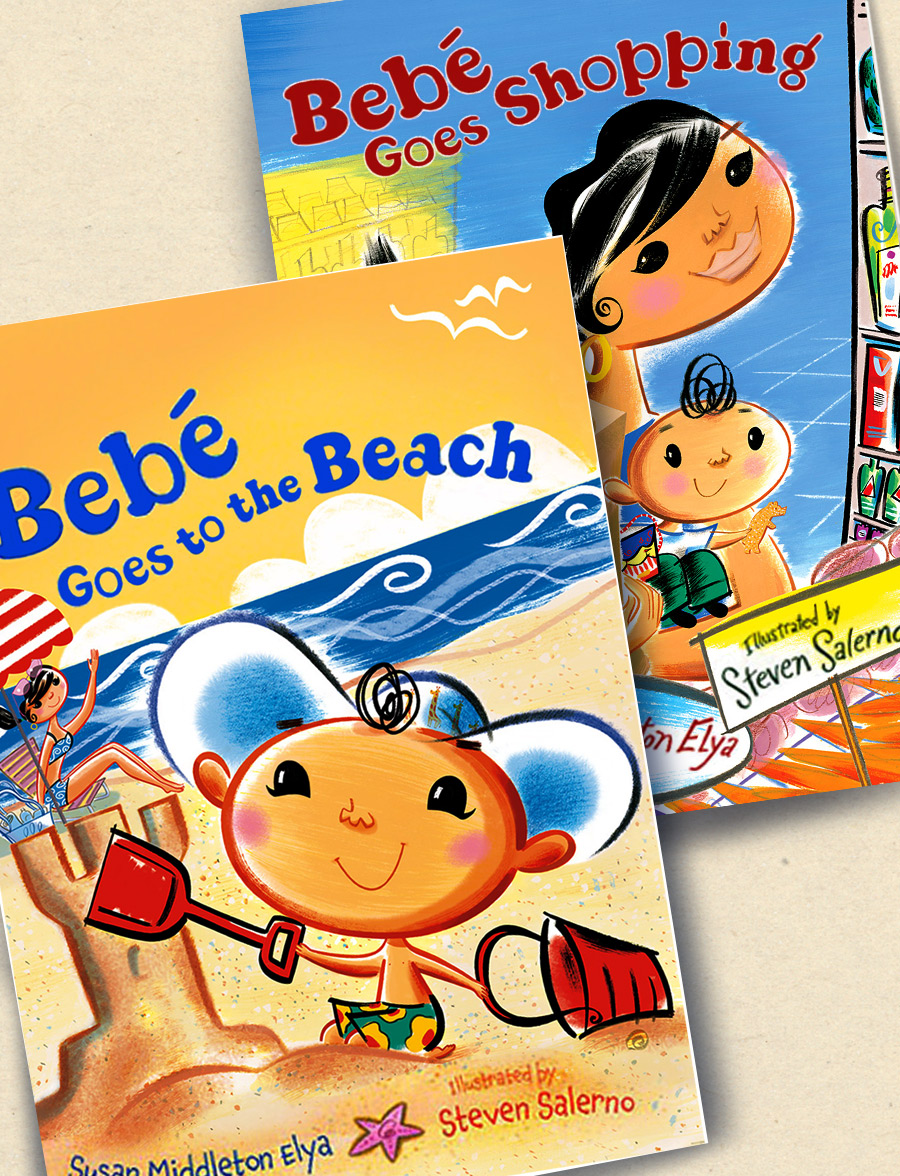 click upper right corner of images to enlarge
above: Mama gives a kiss to her little Bebe sitting in the shopping cart…
English/Spanish rhyming text/ 2 picture books:
Bebe Goes Shopping (2006)
Bebe Goes to the Beach (2008)
-written by Susan Middleton Elya & illustrated by Steven Salerno, published by Harcourt Children's Books.
In the first book Mama and Bebe visit the supermarket (supermercado) for an exciting shopping romp together. Mama wearing a vestido bonito while Bebe sits high in the carrito. In the sequel book Mama and Bebe head to the sunny beach (playa) where Mama soaks up el sol and Bebe has his eyes on the yummy Sabroso! These two books introduce 68 Spanish words within the English/Spanish rhyming text.
[Bebe Goes Shopping] "Introducing a young child to Spanish has never been as attractive as in this shopping romp . . . Fantastico!" -Booklist STARRED REVIEW
[Bebe Goes Shopping] "Rhyming bilingual text demonstrates a skilled storyteller who is clearly comfortable with both languages... Salerno packs the supermercado with such fiesta-bright hues, and canned goods, it's no wonder Bebe can hardly keep his hands to himself... This delightful tale turns an everyday chore into a lively adventure, brimming with entertainment and enjoyment for all" -Publishers Weekly
[Bebe Goes Shopping] "Salerno's cheerful, energetic swirls of color and line, ample white space and changing perspectives transform an everyday outing into a dramatic adventure that will leave readers smiling along with Mama and Bebe" -Kirkus Review
[Bebe Goes Shopping] "Introducing a young child to Spanish has never been as attractive in this shopping romp... The text carefully, and delightfully incorporates Spanish words into the rhyming text... Salerno is a master at getting motion into his pictures, and his spreads rumble and tumble, especially when the baby's animal crackers grow large and alive" -Booklist STARRED REVIEW
[Bebe Goes Shopping] "Spanish terms are scattered throughout the rhyming text, with a glossary included at the end of the book. English-only and bilingual readers will enjoy the bouncing rhythm and buoyant illustrations" -School Library Journal
[Bebe Goes the The Beach] "Salerno joyfully blends 1950s advertising-style illustrations in vivid gouache and watercolors with colored inks and pencils" -School Library Journal
[Bebe Goes the The Beach] "With her signature Spanish/English rhymes, Elya introduces a gracious plenty of Spanish words interspersed in bold throughout the easily recited text. Salerno's retro-style, full-colored paintings complement and enhance the linguistic clarity" -Kirkus Reviews
- a Nick Jr. magazine selection for one of the Best New Books [Bebe Goes Shopping, 2006]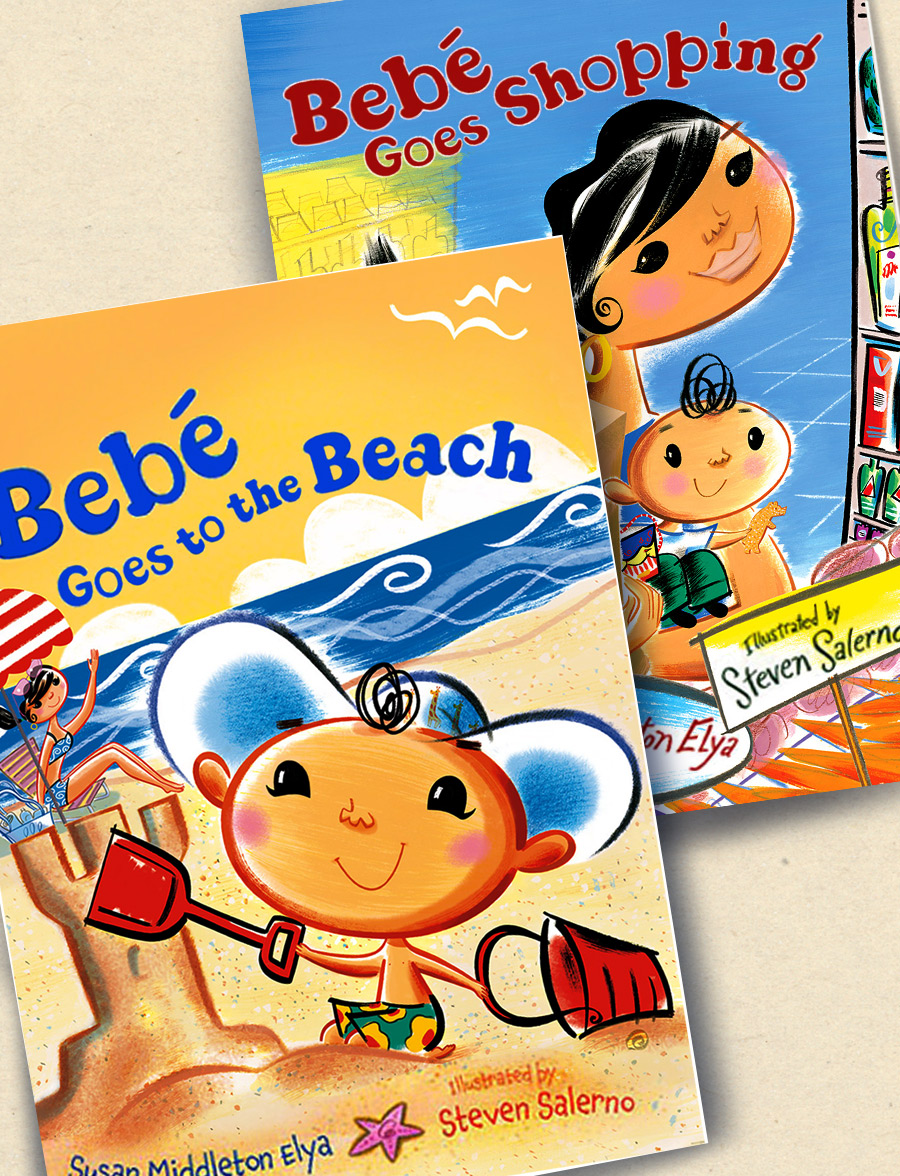 click upper right corner of images to enlarge
above: Bebe Goes to the Beach –a view of the sunny playa and the rolling white olas…
click upper right corner of images to enlarge
above: Bebe Goes Shopping –Bebe is sitting high up in the shopping cart, the sweet (dulce) just out of his reach…
click upper right corner of images to enlarge
above: Bebe Goes to the Beach –Bebe is on the move at the sunny beach (playa)
click upper right corner of images to enlarge
above: Bebe Goes Shopping –Bebe finally gets his hands on a box of tasty animal cookies… a lion (leon), a bear (oso) and so many more…
click upper right corner of images to enlarge
above: Bebe Goes to the Beach –Bebe builds a mountain (montana) on the sandy beach…
click upper right corner of images to enlarge
above: Bebe Goes Shopping –Bebe tugs on a carton with muchos colores in butterfly yellow, with pink and white flores…